I'd say the best part of July is not the lifting of the June Gloom, but
the fact that I won't have to talk about the "double dip" any
more. Well, maybe a few more times. Like now, for
instance. You will recall that June was the last month in which
first-time buyers could get both the $8,000 federal tax credit and the
$10,000 state tax credit. The Feds later extended the June
closing deadline to accomodate short sales, but they didn't announce
that until more recently. Because people buying before the April
deadline thought they had to close by June, the tax credit's effect
should have been used up in June for the great majority of cases.
Prices
It actually appears that the effect of the double dip may have been
used up even before that. The median price per square foot
actually fell in June despite the expiring stimulus. It dropped
by a giant 10.6% for condos, more than erasing last month's
almost-as-wacky gain. But even the far less volatile single
family median price per square foot fell by 1.4 percent.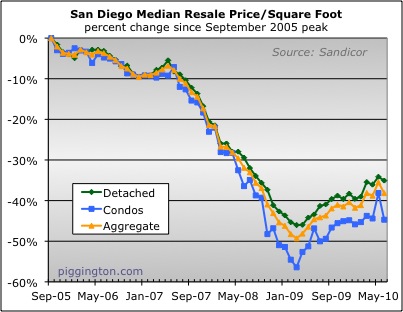 The plain vanilla median looked essentially identical: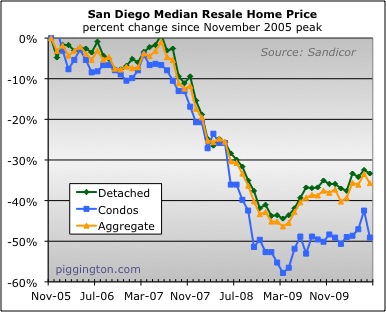 My Case-Shiller proxy, calculated from three months' worth of movement
in the single family median price per square foot, was pretty much flat
(up by .2%, to be exact):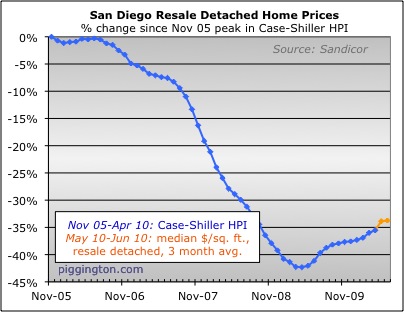 Supply and Demand
While the stimulus expiration was a bust in terms of boosting
prices, it did seem to help sales, which increased slightly even after
last month's big bounce. The tax credits surely have something to
do with the fact that June was actually the biggest month for sales in
the four years tracked on this chart: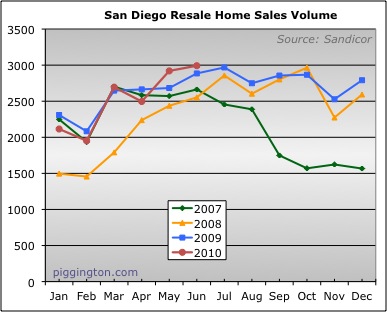 Inventory continued the rise it has seen all year. Homes for sale
were up 29% in the first 6 months of 2010 vs. being down 11% the same
period in 2009. Given that low inventory was a big factor in
driving the recent rally, this trend could be significant: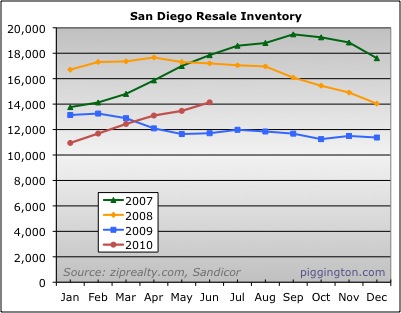 The increase in inventory was all active, not contingent — in fact,
the number of contingent listings shrank for the month.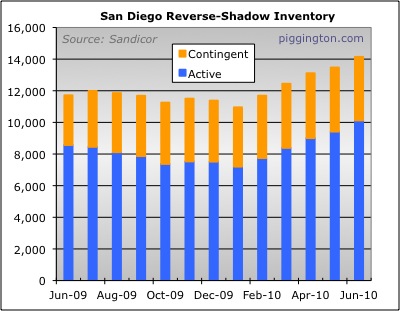 But because of the high absolute level of sales, months of inventory
remained
pretty low: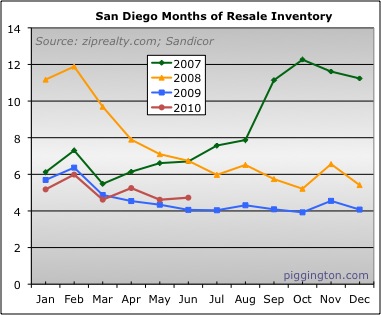 Conclusion
Months of inventory have remained low due to over-stimulated sales
levels, but that could change. The federal credit is toast as far
as encouraging new sales from here on out. And the state
first-time buyer credit, according to the FTB site, is likely already
used up. So sales could pull back in the months ahead even as
inventory seems to be on a pretty steady upward path. As we saw
in the prior
article, this combination is not a supportive one for home prices.