In the first month after the [insert preferred double homebuyer tax
credit catchphrase here], prices as measured by the median price per
square foot were pretty much flat: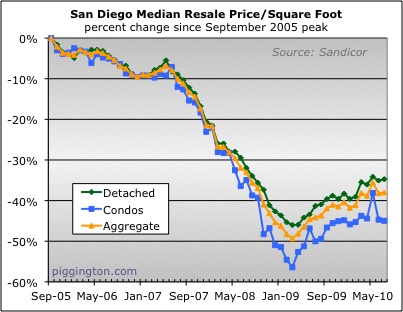 Same went for the vanilla median. Thrilling!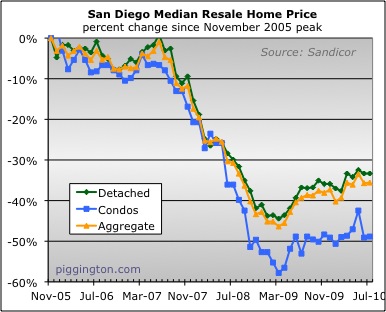 My Case-Shiller proxy, being a three-month average, crept up a bit
largely due to the big price jump in May, but this will roll out next
month and potentially lead to a decline: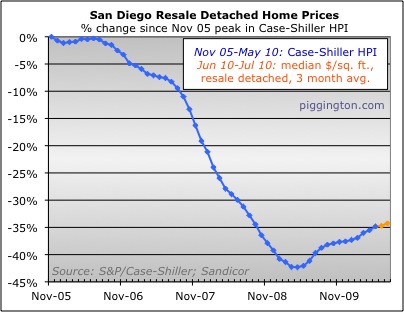 So prices were a bit of an analytical yawnfest. Much more
interesting was the action in sales and inventory.
As one would have expected post-double-tax-credit, sales
declined. This was during what has been a seasonally strong month
over the prior two years (sales were down in July 2007, but that
probably has more to do with subprime implosion than seasonality).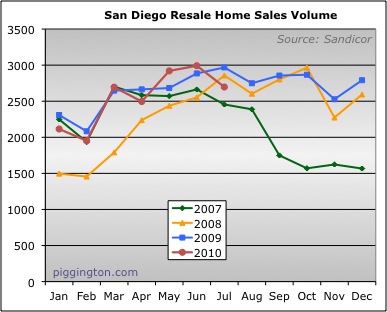 Schahrzad Berkland, former prolific Econo-Almanac poster, local
realtor, and proprietor of the San Diego Housing
Forecast website, was kind enough to share with me her historical
pending sales data so that I could do this next chart. Pending
sales are a more timely way to measure demand than closed sales,
because homes go pending when they go into escrow but don't typically
become closed sales (and show up in a chart like the one above) until a
month or two later. Pending sales also dropped in July,
indicating declining closed sales ahead: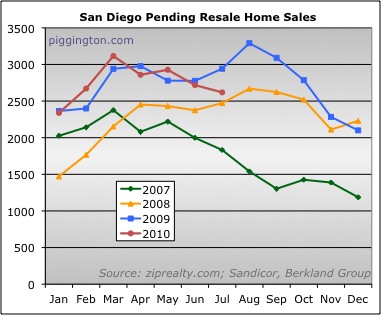 While demand was waning, supply continued to grow as it has all year: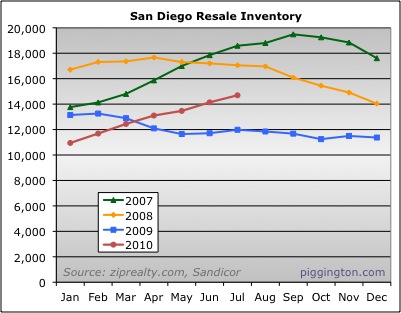 Month of inventory accordingly rose (the months of inventory chart is
updated to use pending sales instead of closings):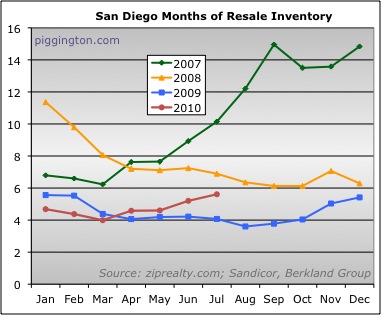 So here we are in the post-stimulus lull. The stimulus worked by
pulling forward future demand, but we've now arrived at the point in
time from which demand was poached. The concurrent rise in
inventory puts the months-of-inventory figure awfully close to the
6-month line that has often marked
the
difference between rising and falling prices. If current trends
continue, we will soon be at a level of inventory that has historically
been associated with price weakness.