November saw the 7-month rally in San Diego home prices, as measured
by the median price per square foot, come to an end:
I wrote about this last
week, briefly.
The plain-vanilla median exhibited similar behavior:
My Case-Shiller proxy kept a-rising
because it's based on a three-month average of the price data.
This is actually notable because when we look at spring rallies past,
we do so using the CS index. So from that historical standpoint,
the "spring rally" has not actually ended yet:
November sales volume dropped by an amount that has been about the
average Oct->Nov drop over the past 5 years (I wrote about this a
bit at Voice):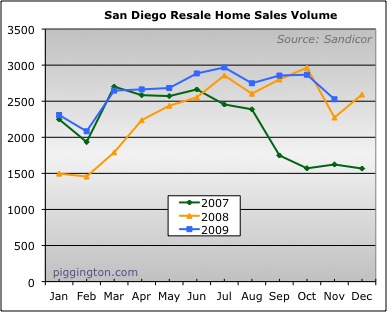 Inventory was up a bit, but at more or less the same level it has
been in recent months.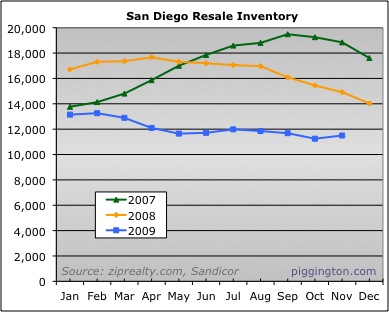 Months of inventory was up slightly:
So, we had decent supply and demand, but prices fell a bit.
Perhaps even better
supply/demand fundamentals are needed to push prices up in the face of
widespread unemployment. Or, it could be that sellers are starting to
give way a bit on price. Or, it could just one month's worth of
noise in the data…