Here's the final score for the year 2016:
Looking at the single family number, which gives the best read, prices
increased a couple % more than inflation, and roughly the same as wage
and rent growth. As one would expect in a given year, all things
being equal.
This time they're not equal in that valuations began the year at an elevated
level. However, as discussed in the afore-linked article,
perhaps valuations can remain higher than usual while interest rates
remain lower than usual.
Back to the monthly data, prices did pull back, but that's reasonable
at this time of year:
No evidence yet that the recent rate rise is taking a big bite, but
keep in mind that as abrupt
as the increase was, it didn't take rates all that far above where they
began 2016: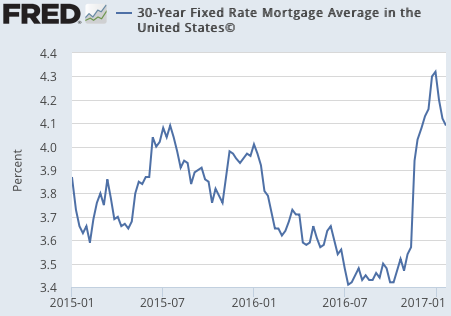 The inventory-vs-price chart shows that months of inventory remains
pretty tight, and at a level that would usually put upward pressure on
prices. The dip down in prices appears typical for year-end… I
would expect some convergence in these two lines as time goes on
(either prices starting back up again, or months of inventory
increasing as demand wanes compared to supply).
Here's a closer look at months of inventory. The typical December
bounce was a no-show; let's see what happens as the year begins.
Some more graphs are below, for those who want to get into the weeds…