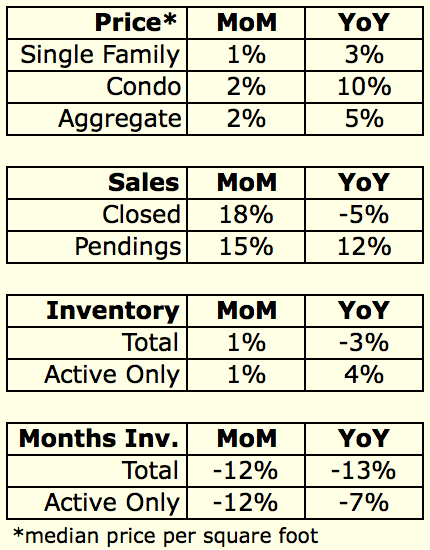 As of January, there was a big divergence between pending and closed
sales: closed sales were very weak (even considering the
seasonality), but pendings were strong. This gap narrowed
substantially in February as closed sales made a big catch up
move. Check it out in the graph below… closed sales were
unusually low in January, but a lot closer to recent years (albeit
still somewhat low) in February.

Pending sales on the other hand were not at all weak in January, a
fact which augered the rebound in closed sales. And they were
similarly strong in February — so we should expect further catch-up
in closed sales.
Now this is all relevant to ye olde supply and demand thing.
The strength in pendings implies fairly strong demand, somewhat
higher than last year. Where does supply stand? Very
similar to this time last year, it turns out:
Flat supply and increased demand translates to a lower
months-of-inventory reading:
Now, the current months of inventory is quite low on an absolute
scale:
…but that's the norm for this time of year. You can see that
we were at the same level in the beginning of 2014, but as the year
progressed, supply and demand got back into a better balance.
And as we know, this key metric of supply vs. demand is generally a
great indicator of near term price pressure:
The graph above implies that the current level of inventory should
put upward pressure on prices. And they did indeed rise in
February…
But these are still the somewhat dead winter months, and months of
inventory could change pretty dramatically as the market gets going,
as happened last year.
If months of inventory stays at these levels, we are looking at some
potentially signicant upward price pressure. But, please note
the "if." We will get a better idea over the next couple of
months as the spring season kicks in.
Graph dumping ground below: